Industry Related Contacts / Partners
Caddy Mobility works together with other companies specializing in mobility services to ensure that every possible aspect of your mobility needs are met and problems are solved.
Please click on the links below to find out more about some of our affiliates:

Star Community Services is a not-for-profit organization providing transport assistance for eligible people based around Redland City.

Wheelchair Insurance specialises in providing insurance for manual and electric wheelchairs.

The Queensland government has introduced the Vehicle Options Subsidy Scheme (VOSS) to help eligible people have access to modified vehicles, and Caddy Mobility is one of their approved vehicle modifiers.

Caddy Storage are proud supporters of the Cerebral Palsy Alliance, having attanded the 2012 CBD Golf Escape earlier this year.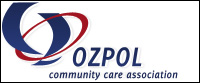 OzPol Community Care Association Inc. is a dynamic and progressive not for profit aged care business, providing comprehensive and integrated home care services in Queensland.
Driving Well Occupational Therapy is an assessment service that determines a client's medical fitness to drive due to age, illness, disability and/or injury.